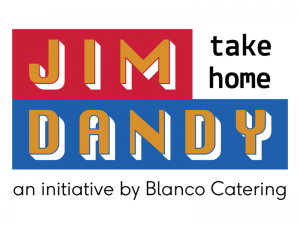 We are thrilled to have launched a new initiative Jim Dandy Take Home, combining our two businesses Jim Dandy and Blanco Catering, to create nutritious & delicious food that can be enjoyed in the comfort of your home or office.
In this tricky time where social distancing has become the new normal and people are spending more time at home, we are here to help. We want to help make this time as enjoyable and safe as possible, by preparing great food at great prices for you and your family to enjoy at home.
Our menu features "classic Blanco charcoal chicken", amazing fresh artisan bread loaves, ready-made meals that you can easily heat & eat, and even some local beer & wine that you can also take home.
All food is prepared by our award-winning chefs in our HACCP approved kitchen for optimum hygiene.  Meals can be eaten fresh or put in the freezer to enjoy at another time and made using the best in local produce.
With an easy to use online ordering system, options for pick up or local delivery (within 3kms from Trinity Gardens for $5.50), we are here to help support you during this time.
Order Jim Dandy Take Home now.